Banana cake with vanilla frosting. Banana Cake - put those overripe bananas on your counter to good use with this simple and delicious Banana Cake recipe! Today's recipe is brought to you thanks to a huge bunch of overripe bananas I had last week. Visit my blog at www.overthekitchencounter.com for more tips on cooking and crafts!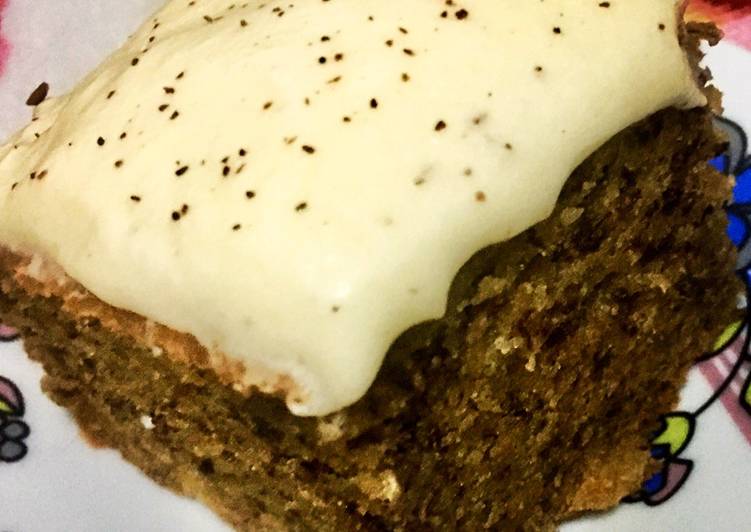 It was the moistest cake I've ever eaten. Mega banana flavor, certainly more banana flavor than any. It is CAKE, not at all like a dense, heavy banana bread texture. You can cook Banana cake with vanilla frosting using 8 ingredients and 10 steps. Here is how you cook that.
Ingredients of Banana cake with vanilla frosting
Prepare 6 of banana, mashed.
Prepare 2 cups of all purpose flour.
You need 2 of eggs.
You need 1/2 cup of oil.
Prepare 1 cup of sugar.
You need 2 teaspoon of baking soda.
You need 1/4 teaspoon of salt.
Prepare 1 teaspoon of cinnamon.
It is much lighter than that, with a soft and tender crumb - in color and texture it's similar to a yellow cake UGC Reviews Modal. Add the mashed banana, egg, and vanilla. Add the flour, salt, and baking soda. Stop mixing as soon as it is combined.
instructions Banana cake with vanilla frosting
To make the cake.
Preheat oven to 180 degrees. Spray an 8x8 baking pan with cooking spray and set aside..
Using an electric mixer, beat together the sugar, egg, oil, baking soda, cinnamon, and salt over medium speed until combined..
Add in the mashed bananas..
Stir in the flour by hand, mixing until just combined..
Pour into the prepared baking dish and bake in the preheated oven for 22-28 minutes, until top is golden brown and a toothpick inserted in the center comes out clean. Cool completely on a wire rack..
To make the frosting.
Beat the butter, powdered sugar, milk, and vanilla extract with an electric mixer until smooth..
Evenly spread over the cooled cake..
I like to sprinkle the frosted cake with a little cinnamon for an extra boost of flavor and color, but this is optional! Refrigerate any leftovers. ENJOY 🌹.
Add the heavy cream slowly and beat until. This is one of (if not) the BEST banana cake I have ever tasted! Add icing sugar and beat on low speed until. Add flour, salt, and baking soda; mix well. Add the melted chocolate and beat on low speed until incorporated.